About Pianomike

P
ianomike began to play piano at the age of five and singing even earlier. At the age of twelve, he started writing his own songs and also playing keyboards.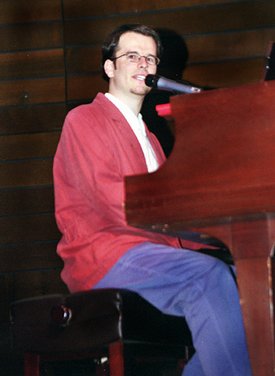 From May 1992 till December 1995, he has played with German dance band "Red Fox". From September 1993 till July 1996, he was keyboarder and harmony vocalist of rock band "Cheri Heat".

In the late nineties, Mike has been working more or less as soloist. From time to time, he has played with several other local musicians in Southern Oregon and Northern California. Just at the turn of the new Millennium, in 2001 Mike has released his first solo album "Pretty Girl".

From Jan. 2003 to August 2005, Mike was keyboarder and singer of the Southern Oregon show band "Zion Train". Since late 2004, Mike has been member of the rock band "Hog Wild", touring with them until Jan. 2006. In late 2008, Mike and the two core members of Hog Wild (Dale and Lloyd) formed the trio "Incognito" and performed as that trio, parallel to Hog Wild, until May 2009 when Pianomike came back from Canada.

February 22, 2004 marks a special day in music history, as Pianomike performed in his own live concert broadcast to thousands of online users all over the world. Pianomike created the term "E-Concert", which is basically an online live concert. It was one the first official concerts performed "online only".

On December 27, 2005, Pianomike has released his second solo album, "Language Mix". This album includes songs in English, German and Czech. Also as of this date, all of Pianomike's songs are available for purchase as individual mp3s or whole albums in the Pianomike's music store.

From Fall 2011 until Spring 2012 Mike has toured again with Hog Wild. He has also been working on his third solo album, which will be called "Sounds of love". Expected release date is Summer/Fall 2014, although some songs from this album are already released.

Mike's style is a mix of classic rock, rock'n roll, jazz and blues.
Click here to see the Pianomike Discography.